Metropolitan, Ho Chi Minh City, Vietnam

Year Completed: 1997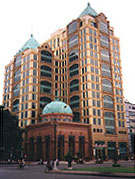 Products Used: GranoClassic (2.08) texture finish, GranoGranit (3.02), GranoElegance (3.01) aggregate finish
Applicator: VABIS Pty Ltd

Description: Completed in 1997 the Metropolitan office tower is located in Nguyen Du Street, District 1, Ho Chi Minh City. It is recognised as the first truly architectural event to be staged in Vietnam since 1975. It is predicted that the premium "Grade A" commercial building will become the business address of Ho Chi Minh City, ideally situated on the corner of Nguyen Du and Dong Khoi streets, arguably the city's most popular, fashionable and historical locations. Many of the technologies utilised throughout the building are being introduced to Vietnam for the first time. Foremost amongst these is the Granosite exterior finish. The exquisite exterior design of the Metropolitan is enhanced by the application of 40 tonnes of Granosite coatings, designed to simulate terrazzo cladding.

Granosite Demonstration Building, Ho Chi Minh City.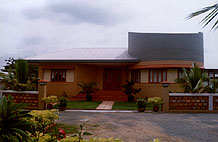 Products Used: N/A
Applicator: The Vabis Group (Saigon)

Description: The Vabis Group (Saigon) erected this demonstration building in their grounds at 12 Phan Van Tri Street, Ho Chi Minh City, to highlight and promote the quality and range of Granosite systems now available in Vietnam.