Granosite

®

chosen for NSW North Coast Luxury Apartments..

...........................



For more information on Granosite. Contact the National Customer Service Team on 132 101



Case Studies - Malaysia
CSR-Granosite Display, Malbex 96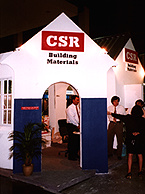 Products Used: N/A

Description: This is the CSR-Granosite display stand at Malbex 96 in Malaysia. It displayed a range of Granosite finishes over CSR products. You can find out more in the CSR Powerpanel PowerTextures Datasheet (4.03).